Mobility in our elderly community is a nationwide problem especially for those in hospitals and care homes.
Older people with restricted mobility have increased risk of reduced bone mass and muscle strength, reduced mobility, increased dependence, confusion and demotivation. This may result in longer hospital stays.
Prolonged stays in hospital are bad for patients, especially for those who are frail or elderly. It can sometimes lead to an increased risk of falling, sleep deprivation, infections and sometimes mental and physical deconditioning. It can also be boring.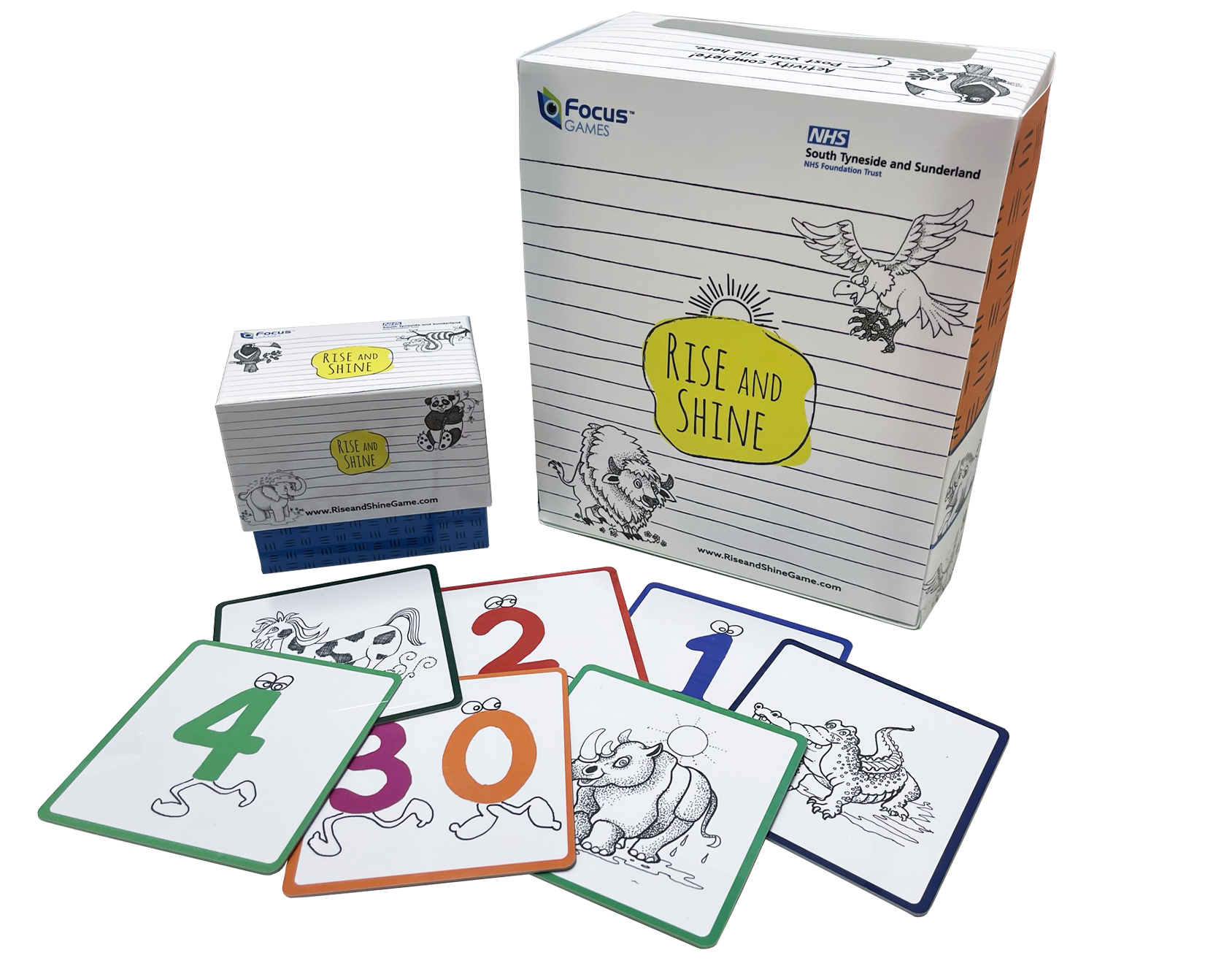 Rise and Shine is fun, and it encourages players to move. It helps to increase mobilisation of elderly hospital patients and any elderly members of the care community. It can also lift their mood.
It is aimed mainly at hospital patients and care home residents who may have more of a challenge being able to move freely.
Rise and Shine not only helps improve the patient's mobility but helps to raise the morale of elderly patients staying in hospitals and of the staff caring for them.
Where does Rise and Shine come from?
Bob Olley – artist and sculptor
Internationally renowned artist and sculptor Bob Olley had the original idea for the game, and he also created the illustrations within the game.
Bob is based in South Shields and uses his unique style of artwork to capture the real spirit and humour of the North East, and has helped brighten up much of the region with his work.
Bob is a board member of TOPIC (The Older Persons Improvement Collaborative). TOPIC is an initiative in the South Tyneside and Sunderland Hospital Trust to improve elderly patient care and experience. Through personal experience and his work with TOPIC Bob realised that older people can become bored and sedentary during their stay in hospital.
Bob created Rise and Shine as a way of bringing some fun to the day by patients participating in a game. It had the added benefit of encouraging older people to get dressed and participate in some movement-based activity, promoting mobility.
How does Rise and Shine work?
Rise & Shine, the exciting card game that gets our elderly patients and community moving! With mobility being a nationwide problem among our senior citizens, it's important to find fun and engaging ways to encourage physical activity.
Rise & Shine is a card game that consists of 30 unique designed tiles, each numbered 1-30 on one side and featuring a fun design by Bob Olley on the other. The game is designed to be played in a group setting, with staff identifying those who would benefit from participating in the game.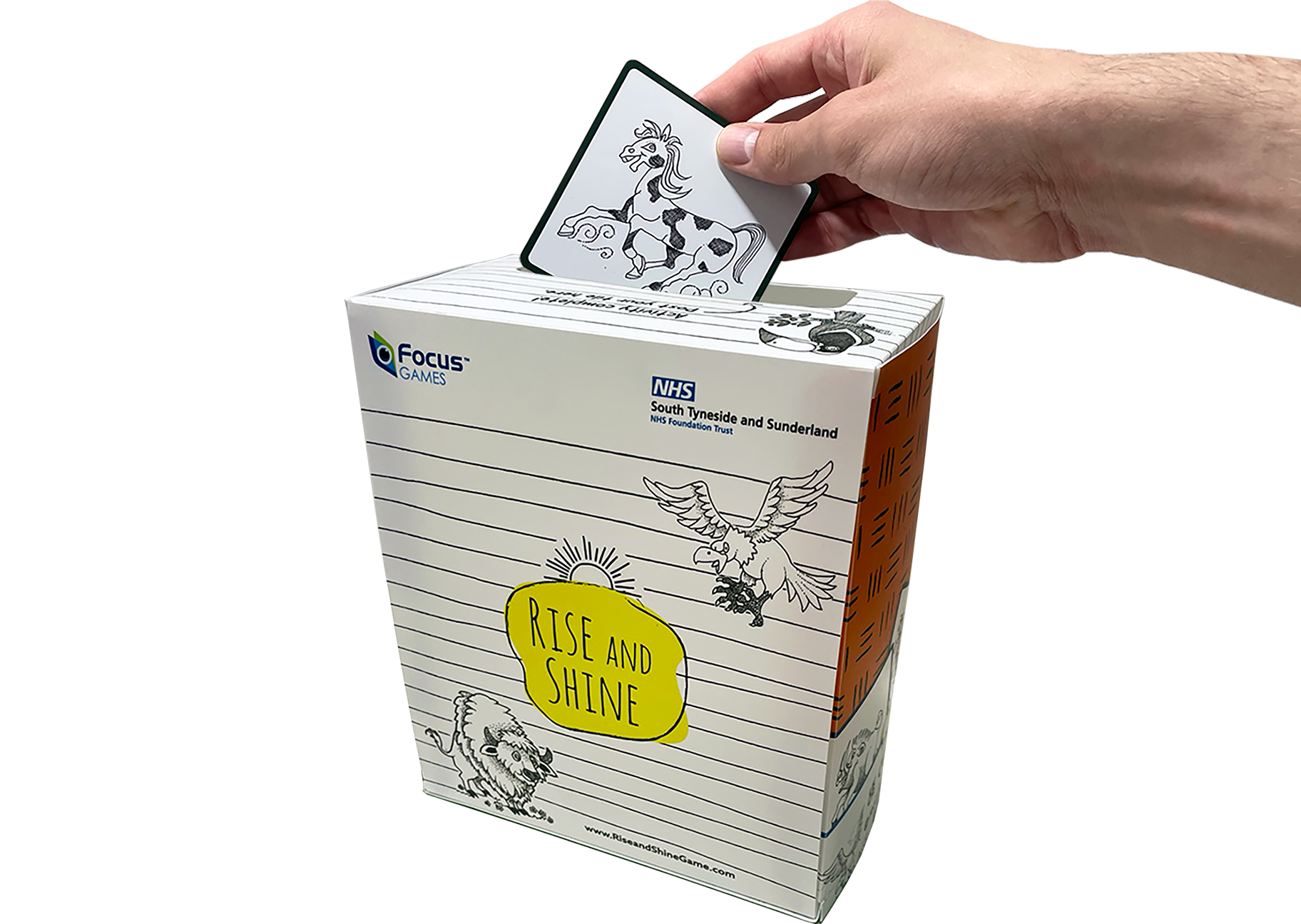 Once participants have been identified, they each take a tile and engage in some form of physical activity appropriate to their needs and abilities. This could include chair exercises, walking, or any other activity that gets them moving.
After the activity is complete, participants post their tile into the Rise & Shine Post-box. Once everyone has taken part in the activity, a "draw" is made and the participant who posted the winning tile wins a small prize.
By encouraging physical activity through the use of Rise & Shine, we hope to mobilize older hospital patients and members of the care community, improving their mobility and raising their morale. Use Rise & Shine to help to keep our elderly community active, engaged, and mobile!
Rise & Shine consists of 30 tiles with unique designs created by Bob Olley. A "post-box" and a handy box to hold all the cards. All the components are fully wipeable and conform to infection control standards.
Benefits of using Rise and Shine
Improved mobility in elderly patients can have numerous benefits, including reducing the risk of falls and improving overall quality of life. According to Age UK, falls are the leading cause of death from injury for people aged 75 and older in the UK. Improving mobility can also help reduce social isolation and depression, improve cognitive function, and enhance independence.
The benefits of physical activity are not limited to physical health. Exercise has also been shown to improve mental health and wellbeing in elderly individuals. A study published in the British Journal of Sports Medicine found that exercise can reduce symptoms of depression and anxiety in elderly individuals.
Rise & Shine is a card game designed to encourage physical activity in elderly individuals. The game has been tested by staff at Sunderland Royal Hospital and South Tyneside District Hospital, with positive results. Feedback from patients and staff has been very positive and has been very successful in its aim to improve the mobility of the patients.
Incorporating physical activity into daily life can be challenging for elderly individuals, Rise & Shine can help make it more fun and engaging.
References:
Age UK. (2022). Falls prevention. Retrieved from https://www.ageuk.org.uk/information-advice/health-wellbeing/conditions-illnesses/falls-prevention/
Close, J. C. T., Lord, S. R., Menz, H. B., & Sherrington, C. (2007). What is the role of falls? Best Practice & Research Clinical Rheumatology, 21(6), 913–935. https://doi.org/10.1016/j.berh.2007.05.001 https://doi.org/10.1016/j.berh.2007.05.001
Stubbs, B., Vancampfort, D., Hallgren, M., Firth, J., Veronese, N., Solmi, M., … Schuch, F. (2018). Physical activity and sedentary behavior as risk factors for depression and anxiety: Cross-sectional and longitudinal evidence from a meta-analysis. Psychiatry Research, 267, 555–562. https://doi.org/10.1016/j.psychres.2018.06.044 https://doi.org/10.1016/j.psychres.2018.06.044